Osaki OS-Bello
The Osaki OS-Bello is an advanced, elegantly designed home massage chair that has many features for a soothing and customizable relaxation experience. Choose from 3 auto programs and 6 massage styles, and enhance your massage with options like heat therapy, Zero Gravity recline, and rocking cradle motion.
Named for the Italian word for "beautiful," this stylish massage chair is a lovely work of art that nicely complements any home or office and offers a thoroughly relaxing heated full body massage in zero gravity any time you need one.
Features of the Osaki OS-Bello Massage Chair:
Stylish modern design
3 auto massage programs
6 manual massage styles
L-track rolling system that moves from the neck down to the glutes and upper hamstrings
8 full body airbags with 3 levels of air pressure intensity
Heat therapy in back
Zero Gravity recline
Accu-pressure massage on calves
Upward and backward motion cradle action
Automatic footrest recline
Embedded side controller
Bluetooth speaker
Retractable hanger
Removable cushions
Space saving design
Warranty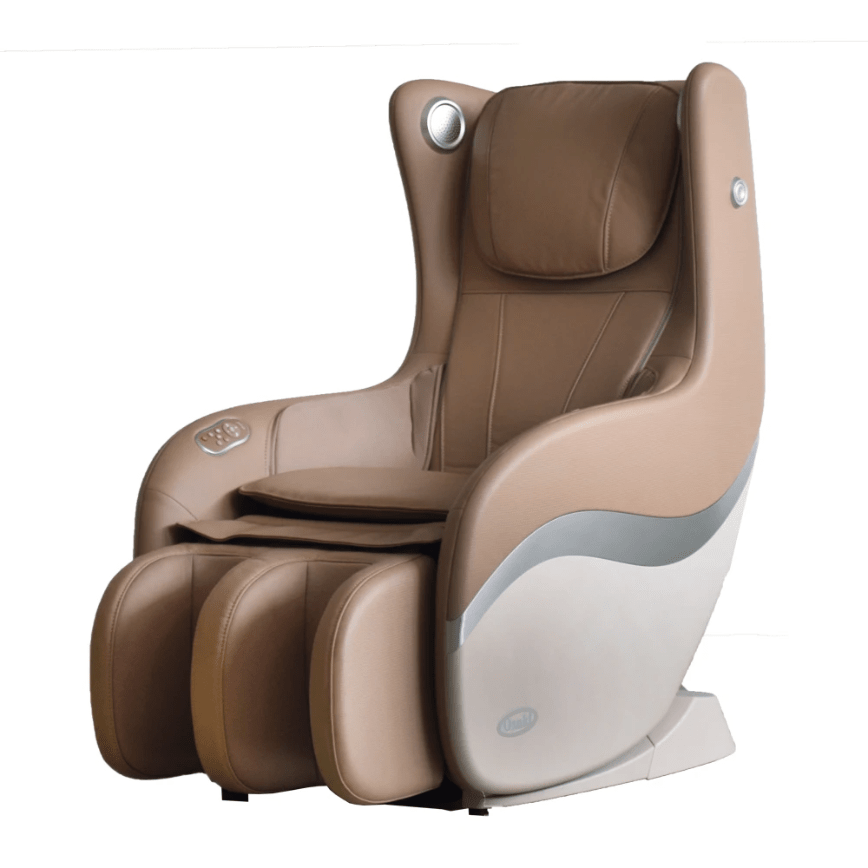 3 Auto Massage Programs and 6 Manual Massage Styles
Choose from 3 beneficial auto programs to address a variety of needs:
Full Body
Neck n' Shoulder
Shape n' Tone
6 different manual massage styles give you even more options for customizing your perfect massage:
Kneading
Tapping
Swedish
Shiatsu
Clapping
Rolling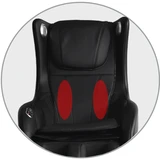 Soothing Heat Therapy
The OS-Bello features relaxing heating in the back area as a soothing complement to the roller and airbag massage. Heat therapy offers additional benefits like increasing blood circulation and loosening tense muscles.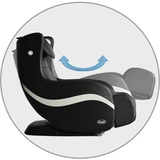 Zero Gravity Recline and Cradle Rocking Motion
The zero-gravity position is the perfect position to receive a massage, aligning and supporting your back in a position that maximizes the intensity of the massage and provides an optimal level of comfort.
Bello gently glides upward and backward like a cradle in a gentle rocking motion to lull you into a state of complete relaxation.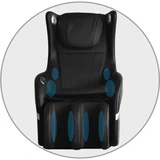 Airbag Massage
8 airbags are strategically located throughout the OS-Bello at the shoulders, arms, thighs, and calves for a complete full body massage.
Choose from 3 levels of air pressure intensity.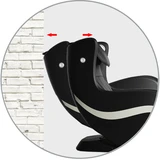 Space-Saving Design
Unique space-saving design makes it easy to find a space for it in your home or office.
The massage chair slides forward as it reclines so that it only needs 3 inches from the backrest to the wall.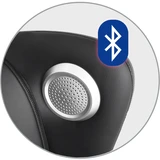 Built-in Bluetooth Speaker
The OS-Bello is equipped with Bluetooth technology so you can relax to your favorite music or relaxing sounds on high quality speakers located in the headrest.
Total quantity
1 massage chair
Powder supply
110~120V, 50/60Hz
Powder consumption
50W
Default timer
15 min
Dimensions (L x W x H)
Upright: Approx. 43.3 x 25.6 x 41.4 inches
Recline: Approx. 52.8 x 25.6 x 35 inches
Weight
Approx. 103.4 pounds
Usage condition
Environment temperature: 32oF~95oF
Contrasting humidity: 20-80RH
Storage condition
Storage temperature: 32oF~95oF
Storage humidity: 20-80RH
Maximum body weight of user
260 pounds
Shipping & Delivery
Orders will take up to 24 hours to process the transaction. You will receive a sales invoice by email or fax.
Invoices must be signed and faxed back to PediSource to process the order; otherwise we assumed the information is correct which you will be responsible for all errors that may occur.
Shipping will take 5-10 business days depending on the availability of stock. Special orders may take 4-6 weeks.
We ship our products Worldwide. Delivery will be by freight carrier or if under 90 lbs, by common carrier.
The driver is not responsible for shipments from unloading from the back of the truck.
Lift gate service is available for an additional charge of $75. Residential delivery is $70. No inside delivery.
Shipping is free for most pedicure spas within the Continental U.S.
All Pedicure Spas are inspected prior to shipping.
Customer shall inspect all units when received at delivery for any outside damages from the boxes. If damages occurred, please contact us immediately and write on the report before signed. Do not sign report until inspect carefully. International Shipping Now Available
Privacy & Security
We respect and value the privacy of our customers by not selling or sharing your personal information to any third parties; however we do share your information to the manufacturers primarily to process an order and for warranty services.
When providing your information online or over the phone, you will be automatically subscribed to receive email promotions, survey, and updates delivered by PediSource. However if you prefer to have your email removed, you may do so by sending us your request to [email protected] This e-mail address is being protected from spambots. You need JavaScript enabled to view it .
We do not carry or sell used pedicure chair.



Returns & Replacements
Manufacturer will accept return of undamaged goods, unopened and in the original boxes within 14 days of delivery.
30% restocking fee will be applied for all cancel orders. The customer assumes all responsibility for delivery costs both ways.
Shipping cost is not incorporated into the chairs and other equipment, we pay the shipping separately even if we offered it for free to the customer. If customers decided to return the equipment, they must pay the shipping both ways.
Please keep all boxes for any return units.
Note that all salon furniture and equipment are drop shipped by our manufacture's warehouse.
Customer must call in advance for authorization to return. Not all equipment is authorized to return, but in most cases we will make an exceptions depending on your situations.
15% cancellation fee will be applied when cancel orders after 24 hours that were being placed.
Please make your decision wisely!



Ordering
When ready to place the order, please call 855-429-7334 to ask for products availability and shipping cost.
We will ask for your full name, shipping address, email address, contact phone number, and credit card information if purchase using credit card.
The information you provide will be confidential and will be not be share to any third parties other then the manufacturer to process the order and for warranty services.
Once the order is placed, we will send you the sales receipt via email or fax.
The tracking number will be sent to your email when products are shipped or at request.



Payment, Pricing & Promotions
All salon equipment must be paid in full before shipped.
To reserve the equipment or when ordering custom products, 30% deposit is required. Deposit is nonrefundable. Deposit after one year without purchase will be voided and terminated.
Tax will be applied for certain states and/or when finance the equipment.
Recommended payment methods are wire transfer, bank draft, certified checks, money order, and financing available.
3% processing fee will apply for credit card transactions only. No fees will be charged if pay by check, bank transfer, paypal, wire, etc.



Changes of Terms and Conditions
We may change terms and conditions at any time during use without prior notice. If you use or access our website after we post a change, you accept the change otherwise you will not be authorized to access and use the web site. Unauthorized use of the pedisource.com website may violate copyright laws, trademark laws, privacy, and regulations. You may copy, download, or distribute for personal use only. Commercial use is prohibited.



Accuracy of Information
Pedisource.com has continuously tried our best to present the content on our website as accurately as possible, however, errors and changes may occur. For accuracy, you may contact a representative to verify the correct information before placing the order. Note that actual colors may not be the same as shown on the website due to different screen resolution.

Disclaimer
We do not accept liability beyond the remedies provided for in this limited warranty or for consequential or incidental damages, including, without limitation, any liability for third party claims against you for damages or for products not being available for use. Our manufacturer liability will be no more than the amount paid for the product that is the subject of claim. This is the maximum amount for which we are responsible. We are not responsible for changes of manufacturing components. Colors may differ slightly from website and from the color palates. The manufacturer reserves the right to make the product changes without prior notice. Buyer agrees to make all claims for the goods and damages or loss against the manufacturers company. Under no circumstances will we or its affiliates have any liability to any claims and damages as a result of your access or use of this web site and its content. You use this website at your own risk. We are not responsible for damage or shortages incurred after shipment, however it will be considered when presented within 5 days after receipt of goods. As you are visiting Pedisource.com website, you agree to the terms and policies and allow us to have arbitration if there is an issue that needs to be resolved. If you agree there will be no claims against Pedisource.com.
Limited Warranty
All salon equipment is warranted by the Manufacturer. If the product is determined to be defective, the product will be replaced at no extra charge solely by the manufacturer. During one year from the date of purchase, our manufacturer will replace the parts returned that prove to be defective in materials or workmanship. All warranty service will be for defective parts only, not for labor service.
Warranty Not Covered
This warranty does not cover customer installation, set-up, adjustments and damage due to proper use of maintenance, connection to improper plumbing supply, or attempted repair by anyone other than a facility authorized to service this product. Problems that result from external causes such as: accident, abuse, misuse, or problems with electrical power or plumbing systems. Servicing not authorized by Pedisource.com, that is not in accordance with our product instructions is also prohibited. Failure to perform maintenance in accordance with the maintenance instructions, products with missing or altered serial number tags, products that have not been installed in accordance with federal, provincial or municipal codes and ordinances are also not covered. Products that have been physically altered in any way are also not covered. Proof of purchase in the form of a bill of sale or receipted invoice which is evidence that the unit is within the warranty period must be presented to obtain warranty service. This warranty is null and void if the product is removed from its place of initial installation or is not installed in accordance with proper codes and ordinances. Furthermore, this warranty does not apply if the product has been subjected to misapplication, improper installation or maintenance. If we determine that the issue is not covered under this warranty, we will notify and inform you of service alternatives that are available to you in a fee basis.
For support, please fill out the form below